Upper West Side | Listing No. RPLU-217121565014


Price
Maintenance [Monthly]
Financing Allowed
Type
Bedrooms
Bathrooms

Approx Sq. Ft.


$550,000
$388
0%
For Sale
1
1

595


Access
Pet Policy
Age
Year Built
Neighborhood



Walk-up
No
Pre-War
1925
Upper West Side


Wake up to Central Park Views!
This high-floor unit is prime for a facelift. This spacious condo just needs a little TLC to make it the perfect home. It boasts an open layout, large bedroom, ample closet space and panoramic views of Central Park and Frederick Douglas Circle.

A drafted kitchen renovation and alternate floor plan show how the kitchen can be expanded and opened up with bar seating.

Towers on the Park is a three-building condominium surrounding Frederick Douglass Circle at Central Park's northwest corner. A gourmet supermarket is conveniently located at the base of the South Tower, and other commercial tenants include a dry cleaner, a bike shop, an insurance agent and 3 food establishments.Residents of the postwar complex enjoy full-time doorman service, live-in superintendent, laundry, a community room, a private garden courtyard, storage, bike room and on-site parking. Subletting is permitted with approval after one year of occupancy. Pets case-by-case.
Upper West Side
The Upper West Side is a storied neighborhood that provides the quintessential New York that we all know and love. From 59th Street to the South, 110th Street to the North, Central Park West to the West and the Hudson River to the East, the neighborhood is one of the most expansive neighborhoods in all of New York. Boasting luxury and simplicity, the UWS is home to
tall apartment blocks on
West End Avenue
and brownstone
townhouses
between
Amsterdam Avenue
and Riverside Drive
. 
Cultural institutions flood the neighborhood adding to its rich and celebrated history. Living here, you'll be surrounded by writers, artists, and art-lovers alike. As
the
backdrop of dozens of TV shows and movies
, you'll recognize it as the setting for the popular sitcom, Seinfeld and classics like West Side Story. If you like the rush of the city but the quietness of the suburbs, then welcome home to the UWS.
What to Expect:
What to expect:
The infamous Lincoln Center for the Performing Arts

Cultural and intellectual hub

Quiet streets

The Beacon Theatre
Additional Spaces You Might Call Home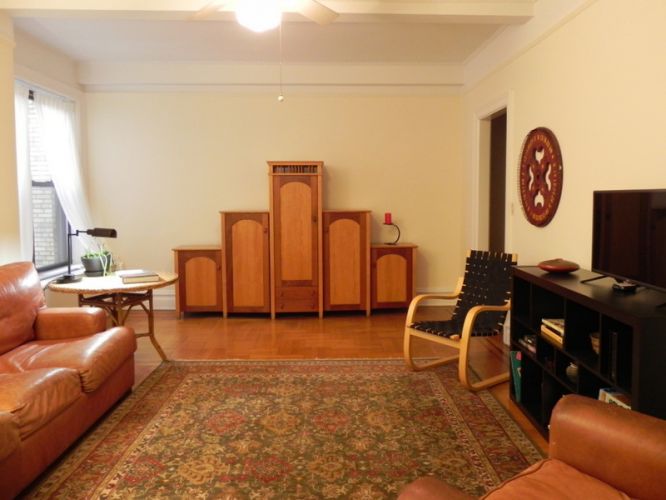 Upper West Side | Manhattan
$1,355,000
New Today!
Upper West Side | Manhattan
$19,500,000
New This Week!
Upper West Side | Manhattan
$825,000
New This Week!
Expert Advice • Best-in-class Service • Proven Results
Search the entire NYC market-place here.
Let's find the right home.